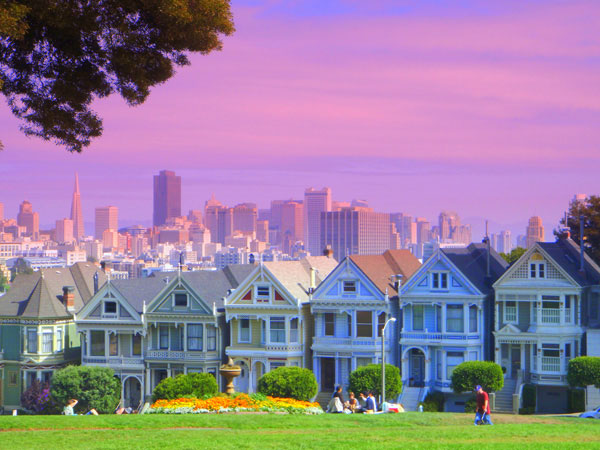 There are a multitude of tour companies offering paid tours of San Francisco, from huge bus operators down to individuals who will meet you for a walking tour.  Choosing the best tour company is never easy for your special trip to San Francisco.  One tour company that we recommend checking out is Dylan's.  Dylan's Tours is truly a family-owned business owned by two brothers who are both native San Franciscans.  The tour options include bicycle options, which are a great combination with the guided tours.  The primary tour is $65 for 10am to 3pm (5 hours).  You can be picked up in the North Beach or Union Square neighborhoods in a small bus that seats up to 14 passengers.  The tour includes Muir Woods which is an additional $7 entrance fee (not to be missed!).  The tour includes many of the best spots to see in San Francisco in a whirl-wind visit – with some stops ranging from 5 minutes up to a full hour:
Painted Lady architecture homes of Alamo Square
Neighborhoods:  Mission and Castro Districts, Plus Marina District, Haight Street, and Pacific Heights
Golden Gate Bridge and Sausalito
If you are in a hurry with limited time, a similar tour with a subset of stops is just two hours for $50 and includes a free bike rental.  One of the primary differences of the shorter tour is eliminating the trip to Sausalito and Muir Woods (over the Golden Gate Bridge) in Marin County.
Dylan's also offers private tours with a 3 hour minimum at $80/hour for up to 5 riders.  Reviews of the private tours are very positive and can be a great option for a family that wants to customize the visit.  You can rent bikes for $22 per day, which is one of the lowest costs in San Francisco, or $7 per hour.  Bikes include many add-on conveniences, including locks, helmets, maps, and a carrying pouch.
Overall, people very much like Dylan's tours based on feedback from real customers.  With so many tour companies operating from huge to tiny size – Dylan's offers personalized service in a medium-sized company that has great feedback from customers.
Learn more on every tour that San Francisco has to offer with San Francisco Travel.