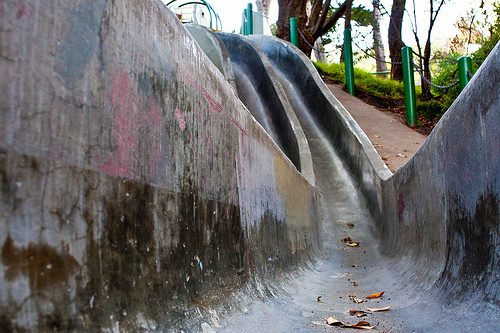 I honestly have no idea how these concrete death chutes were ever approved by San Francisco Recreation and Parks. This is what happens when children make urban planning decisions.
If you have that sinking feeling that, so far, your trip to San Francisco has been a bit too normal, too staid, too safe — it's time to head for the Seward Street Slides.
Built into a lush hillside on one of San Francisco's steepest hills, the Seward Street Slides are twin, two-story cement slides that fully take advantage of the near vertical incline. That's right. Vertical. Hang on to your hats and grab some cardboard, because we're taking the plunge.
Where did they come from?
The Seward Street Slides are a part of Seward Mini Park, a steep vacant-lot-turned-community-garden deep in the Noe Valley hills. The design was the brain child of local resident Kim Clark, age 14, who submitted the winning entry in a "Design in the Park" competition.
Back in the late 1960's, the lot was slated to become a 104-unit apartment building. Noe Valley residents rallied to put residential occupancy limits in place, squashing the building plan and allowing the lot to remain unencumbered.
To the victors go the spoils, or in this case, the responsibility of designing the park. A local sculptor held a "Design in the Park" competition and encouraged children to apply.  Local resident and 14-yr old Kim Clark's proposal for a gigantic slide won the competition, and the Seward Street Slides opened less than a year later in 1973. The Slides have been exhilarating and terrifying generations of San Franciscans ever since.
Seward Mini Park Today
The park is a jungle of overgrown California Buckeyes, nearly enshrouding the slides under a green and red berry canopy. I didn't see them until I was mere feet away. You might want to use a GPS app to zero in on the right location.
If you're planning on slip-sliding the afternoon away, you'll need a cardboard box (static and kinetic friction generally taking the fun out of weathered, concrete slides). Don't worry if you're not properly outfitted, I came across a trail of discarded cardboard devastation on my visit. There were many sizes and styles of box to choose from.
A tip: hold onto the lip of the cardboard as you slide down. Try not to flip over and kill yourself.
While you may be thinking, this would be totally awesome at around 2am, a sloppy detour on your way home from the Mission or Castro… the park has at least three signs saying NO adults unless accompanied by children.
Also, it's closed from sunset to sunrise.
And, no alcohol.
For good measure, they've also installed yellow, padlocked gates at the top of the slides.
If you also thought, "I'll just hop the gate, no biggie," they're way ahead of us. There are yellow gates placed intermittently down the slides. It seems odd that you'd build the ultimate drunk-hipster, fun-time contraption and then put it on lock down.
Now, this could be a reaction to modern ideas of safety and (a warranted) fear of litigation, or maybe it's just a seasonal precaution. Let's all cross our fingers and hope it's the latter. Free the Seward Slides!
Where: On Seward Street, between Douglas Street and 19th Street
Transit accessible by the K, L, M, and T MUNI Metro Lines, and the 24, 33, 35, 37, and 48 MUNI bus routes. From BART, transfer to the MUNI Metro lines at Powell Street or Montgomery Street Stations or to the 48 MUNI bus line at 24th Street Station.
Open daily, 9am to 5pm. Except when the yellow gates are up.
(After getting your fill of the slides, climb uphill to Acme Alley for stunning views of downtown San Francisco and the Transamerica Building.)
by Maria/Far Out City.  Maria publishes elaborate San Francisco Bay Area day trip itineraries over at FarOutCity.com.  All photos copyright by 2011 Far Out City.