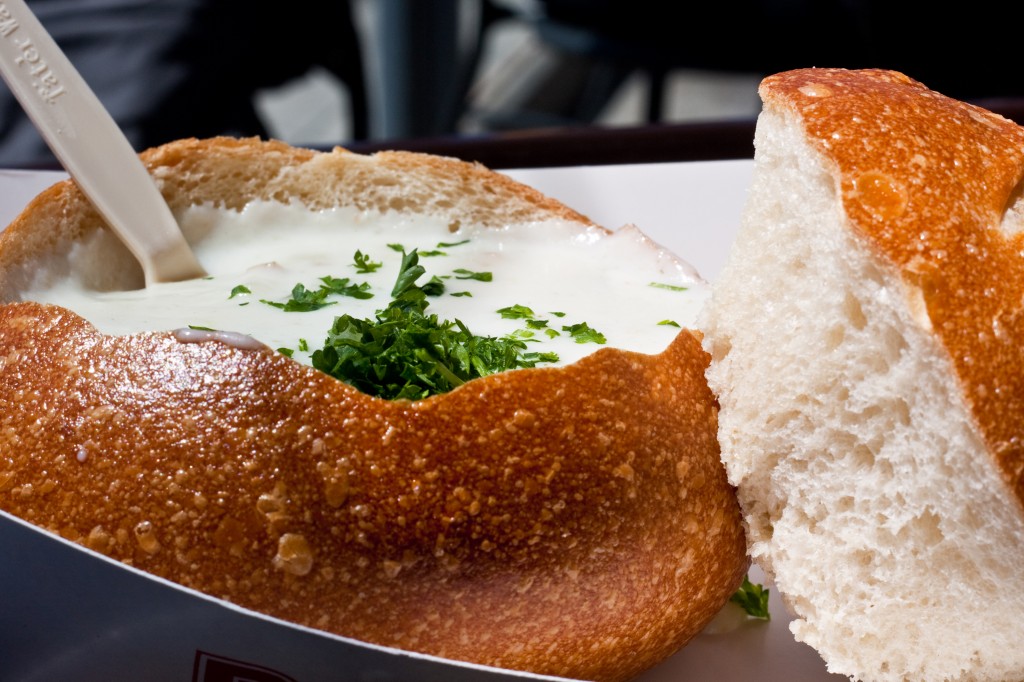 Are you eager to try out the clam chowder at Fisherman's Wharf?  We've reviewed and ranked the best chowder stands and the scary ones to avoid in San Francisco.  San Francisco's hilly culinary capital of the world, is home to Michelin stars, James Beard awardees, and even a few Top Chef winners.
San Franciscans make fun of Fisherman's Wharf…all the time. It's not even beloved in a cheeky or ironic way. And San Francisco loves itself some irony and so-bad-it's-good establishments. But Fisherman's Wharf, is basically dead to us.
Here are my results, from best to worst to utterly disqualified. I hope this helps your future visit to be great with the good food at the wharf, not the duds:
Trust me, you guys are as surprised as I am. Proof that the restaurant with the largest, most obnoxious sign sometimes also has the best chowder. "Best" being a relative term in these parts.
Clam Count: 34 pieces, with many more small pieces not worth counting. Clams were fresh, soft and chewy, in a variety of sizes.
Texture: A light cream.
Flavor: As I wrote in my notes, surprised, "it actually tastes like something!" Compared to the others, Fishermen's Grotto's chowder had a more complex flavor, with hints of herbs and other seasonings. The celery and onion were still crunchy, and actually tasted like celery and onion (don't get used to that.)
Atmosphere: Clean, but outdoor tables are only for folks eating in the restaurant. I had to grab my cup of chowder and head to a concrete pylon in the parking lot across from the Musee Mecanique.
Just next door to Fishermen's Grotto, Alioto's chowder was an easy second place for its large pieces of fresh clam, but it was a little too salty for my taste.
Clam Count: 45, mostly large pieces.
Texture: Reminiscent of pureed baby food, complete with a slight pinkish tint. I have no idea why this would be.
Flavor: Very clammy with a strong taste of the sea, which makes me think they douse their soup in clam juice. Which wouldn't be the worst thing. To make up for the large clam count, there were few potatoes and other vegetables. The celery was mushy, and I'm still only slightly sure that was indeed celery.
Atmosphere: Same as Fishermen's Grotto. Clean but you are on your own for seating. Back to the concrete pylon I went.
The Chowder Hut has the distinction of having outdoor seating. The comfort almost makes up for the chowder. (If you're confused, yes, this cement shack used to be a Boudin food stall. As of 2010, it changed its name to Chowder Hut Grill but is owned by Boudin. Hence the similarities.)
Clam Count: 8. I won't even get into how hard those eight were to find and how microscopic some pieces were.
Texture: Mayonnaise. Which made it perfect material for building a chowder volcano. I may have also pretended an earthquake rattled through, just to watch it quiver like a seismically sound Taiwanese skyscraper. (There's not much to do once you've already ID'd all eight clams and still want to enjoy the picnic table seating.)
Flavor: Typical salty, creamy flavor of clam chowder. Garnished with fresh parsley, which was a nice touch although no other herbs touched the vat of chowder. Potatoes were plentiful, but celery was hard to come by. Which wasn't the worst, as the celery tasted of mushy clam juice.
Atmosphere: Quite pleasant. Sure, the seating is situated right next to a parking lot and busy road packed with double decker tour buses, but the owners have taken down part of the cement wall enclosure and installed a tall glass wind shield to protect against the western winds. Across the street, a street band had set up on Pier 45, playing favorites like "Brick House" and "Super Freak" as tourists got swept up into an impromptu dance party.
4. Boudin Cafe
The most popular and bustling chowder bowl destination by far. You'll have to figure out which of the three lines to stand in, amidst the madness of children racing between you and "confused" couples wandering straight to the front of the line (oh, was there a line there?). Despite it all, it only took 10 minutes from start to finish.
Clam Count: 13. Seems low, but that's really more than I wanted. Each clam was so fibrous and stringy that it felt like chewing on shredded sandpaper. I was always downhearted to find another.
Texture: The texture was the thick cream that I associate with New England clam chowder, although not nearly as sturdy as The Chowder Hut.
Flavor: Pleasant enough. Mostly nondescript. None of the sea salt flavor of Alioto's or the herbed Fishermen's Grotto. At first, I thought their base didn't include any celery, but realized after a while that the white glutinous blobs were celery.
Atmosphere: Boudin has the same glass walled seating as the Chowder Hut, cornering off the southern section of the same parking lot. You don't get the same views or people watching that you do with the Chowder Hut. But, seating is still seating in this neck of the woods.
Nick's shows up much higher on other lists. I have no idea why.
Clam Count: 12, and it was a struggle to find them.
Texture: A light creamy base similar to Fishermen's Grotto
Flavor: Any similarity to Fishermen's Grotto was dashed with the first spoon full. The flavor is that of water. With few vegetables or clams, there wasn't much to this chowder at all. Celery was crunchy, sure, but that didn't make up for the rest of it.
Atmosphere: Cleanish, but it also has no seating. I didn't make it back to my beloved concrete pylon before I tossed it out.
6. Guardino's
As my notes succinctly put it: "Actually gross."
Clam Count: SATURATED with clams. A shocking number of clam bits. This was proof that clam count itself is no guarantee of good clam chowder.
Texture: Water, with the ever present clam pieces. Imagine saturating a bowl of rice with water. Voila.
Flavor: Actually, a bowl of rice with water isn't far off. Except, kind of a dirty version of tap water. It was nearly inedible.
Atmosphere: It doesn't matter. You aren't going here.
Disqualified. Look, I'm game for food stands. I've worked at so many restaurants and food stands. I grew up going to the Jersey Shore. I will practically eat anything, anywhere. As this whole post goes to show.
But, when there is so much free floating ketchup, smeared and glopped all along the countertop landscape, decorated with spears of eaten crab legs and overturned condiment cups…you lose your appetite a little. It's a slow day. You gotta clean that up.
Disqualified. The ketchup epidemic breaking out at Sabella & LaTorre had spread next door to The Crab Station. I just kept on walking.
HONORABLE MENTION
Usually, the honorable mention section is saved for places that were good but didn't make the list. This honorable mention section is a plea to you and you and yes, you all the way in the back there, to please avoid the food stands and head indoors.
Franciscan Crab – This is my not-so-secret go-to when friends and family come to town and insist on seeing Fisherman's Wharf. A glass box with multi-story, amphitheater seating with cushy booths, you are guaranteed terrific, unobstructed views of San Francisco Bay and an utterly professional wait staff. The decor is a modern ode to the mirrored and velvet-soaked 1960's. The food is fresh and arrives promptly. A great experience all around.
Scoma's – Oh, is that too fancy for you? You want some on-the-ground, down-by-the-boat-docks, old-school San Francisco restaurant? Scoma's. It's remarkable how quickly the chintzy gift shops and tourist traps die away when you walk a block in the right direction. Lo and behold, this is the actual working waterfront of Fisherman's Wharf. It's still a cloth-napkins kind of place, but you'll eat while gazing out at teeter tottering sail boats and fishing boats pulling in the day's catch. The fish is fresh, with a slight emphasis on Italian.
by Maria/Far Out City.  Maria writes about San Francisco and urban travel over at Far Out City.  All photos copyright by 2012 Far Out City.