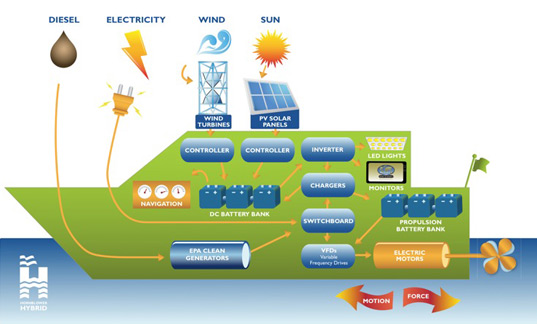 Alcatraz now has Hornblower tours with a fully green boat. The boat uses wind turbines, solar panels, and hybrid batteries to power many of the ship's functions. With over 1.4 million people visiting Alcatraz every year – this is a great step to keeping San Francisco Bay clean and pollution free. Many other boats such as the Red & White already use bio-diesel for their Bay cruises.
The new Hornblower boat carries around 160 people and when it is idling – it runs off its hybrid batteries powered by wind, solar, and plug-in. The interior uses LEED approved recycled content as a nice additional touch. Keep in mind – this is just one of the Hornblower fleet in San Francisco to Alcatraz – but a great first step in keeping the Bay green and clean.
sfTravel calls on all of the boat tour companies that tour into or around Alcatraz to adopt reasonable practices to keep San Francisco Bay clean – Blue & Gold, Red & White — what do you have in the works?